The role of immune semaphorins in NAFLD and sepsis
SepsisFAT
HRZZ Research Project (UIP-2019-04-7194)
Project leader: Neven Papić, MD, PhD
Host institution: School of Medicine, University of Zagreb, Zagreb, Croatia
Collaborative institutions:
University Hospital for Infectious Diseases "Dr. Fran Mihaljević", Mirogojska 8, 10000 Zagreb
University Hospital Center Zagreb, Kišpatićeva 12, 10000 Zagreb
University Hospital Merkur, Zajčeva 19, 10000 Zagreb
PROJEKTNI TIM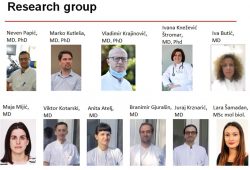 SAŽETAK
The liver, with its ability to produce acute phase proteins, complement and cytokines, plays a central role in regulating inflammation. A balanced pro- and anti-inflammatory liver response results in bacterial clearance and resolution of inflammation. Nonalcoholic fatty liver disease (NAFLD) is the most common chronic liver disease associated with systemic changes in immune response. Although there are numerous immunological links between sepsis and NAFLD, there is a significant gap in knowledge regarding the role of NAFLD in sepsis. Semaphorins were recently recognized as one of the key regulators of immune responses; while some suppress immune cells activation, proliferation and production of inflammatory cytokines, others stimulate immune responses. We have previously shown that semaphorins are associated with pathogenesis of viral hepatitis and progression of fibrosis. However, their role in NAFLD and sepsis is unknown. The hypothesis of this project is that semaphorins are regulators of inflammation in patients with NAFLD that have impact on sepsis outcome.
The main aims are:
(a) to identify semaphorins that are associated with NAFLD;
(b) to analyze the impact of NAFLD on sepsis outcomes;
(c) to analyze changes in semaphorin concentration according to steatosis grade in patients with sepsis and its impact on clinical outcomes;
(d) to describe correlation of semaphorins with the profile of pro- and anti-inflammatory cytokines in patients with sepsis;
(e) to analyze the changes in semaphorin concentration and the profile of immune response in patients with severe community acquired pneumonia;
(f) to identify semaphorin gene polymorphism associated with NAFLD and its impact on sepsis outcomes.
Semaphorins could be a novel diagnostic and prognostic biomarkers as well as targets for immune modulation in sepsis aimed at protecting organs from injury in patients with NAFLD.
FINANCIRANJE
Budžet projekta iznosi 1.639.859.00 kn
INFORMACIJE O PROJEKTU
RESEARCH METHODOLOGY
This study is designed as a prospective, non-interventional study.
The project is divided in 3 consecutive phases:
PHASE 1. IDENTIFICATION OF SEMAPHORINS AS BIOMARKERS OF NAFLD.
To goal is to identify semaphorins that are associated with NAFLD and to investigate their relationship with variable degrees of steatosis and fibrosis. The degree of steatosis will be estimated using the controlled attenuation parameter (CAP). Routine laboratory tests and anthropometric measures will be collected, including the components of metabolic syndrome. Non-invasive scores of steatosis/fibrosis will be calculated. Semaphorin concentration will be measured in patient sera by ELISA. The correlation between serum semaphorin concentration and other non-invasive markers of fibrosis and steatosis, laboratory and anthropometric measures will be analyzed. In addition, immunohistochemistry will be performed on liver biopsy specimens diagnosed and staged with NAFLD according to NAFLD activity score. To identify semaphorins' gene polymorphisms associated with NAFLD, three genes with highest association with NAFLD will be sequenced. Phase 1 is registered at ClinicalTrials.gov: NCT04573543
PHASE 2. ANALYSIS OF SERUM SEMAPHORINS CONCENTRATION IN PATIENTS WITH SEPSIS AND NAFLD IN COMPARISON TO PATIENTS WITH SEPSIS AND WITHOUT LIVER DISEASE.
Adult patients diagnosed with sepsis will be offered to participate in the study. Patients will be screened for the presence of NAFLD using non-invasive procedures (US, CAP, TE, and APRI, FIB-4 and NAFLD score). Routine demographic, clinical, microbiological, treatment and laboratory parameters, including the disease severity scores (APACHE, SAPP, SOFA), will be collected and patients will be followed until discharge. Serum semaphorins' concentration and the panel of pro-inflammatory and anti-inflammatory markers will be measured by flow cytometer microsphere-based assay. Semaphorins' gene polymorphism and its association with other immune and clinical parameters will be analyzed.
PHASE 3. ANALYSIS OF SEMAPHORINS IN PATIENTS WITH SEVERE COMMUNITY ACQUIRED PNEUMONIA AND NAFLD.
The goals are (a) to investigate the impact of NAFLD on the course and outcome of severe pneumonia as a source of sepsis; (b) to describe systemic and local immune response to infection; (c) to describe association of semaphorins with disease severity and outcome. Serum samples and bronchoalveolar fluid (BAL) will be collected and concentrations of semaphorins and pro- and anti-inflammatory cytokines will be measured.